Howard Davies: Hollande's joke bites back
MT DIARY: Singapore gets ready for the GP, history according to the ONS and the radio interview that left me lost for words.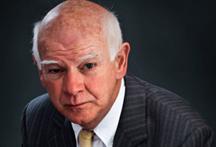 I find it surprising that Singapore is prepared to carve up the central business district with tall steel fences and crash barriers, making it impossible to walk from hotel to office, in the interests of staging a Grand Prix. But the Singaporeans are the most rational people on earth. They make the Swiss seem impulsive and happy-go-lucky. So I guess they have worked out the positive Net Present Value of hosting a Formula 1 race in their usual careful way.
Since Singapore is also one of the cleanest cities anywhere, it must double its transport carbon emissions for the year. Ecclestone Inc have just woken up to the fact that their 'sport' is the least environmentally friendly activity you can imagine. Their response, however, seems rather to miss the point. They have set up a new Formula E (for electric) series of races, in addition to the noisy ones. Since the electricity to power the batteries must come from somewhere, and they don't carry a portable wind farm around, that must make their carbon footprint even heavier. Though I guess it does show they have a sense of humour.
If you can hear what people say above the noise of the cars, the economic mood in southeast Asia is not so positive. There are worries everywhere they look. The Hong Kong democracy movement could have unpredictable consequences, no one knows quite what to make of the new Indonesian president, the new Indian government is still an unknown quantity and the Chinese financial system is going through one of those phases when it emits steam and odd cranking sounds.