Howard Davies: I never imagined myself as a bedroom wall pin-up
The MT Diary: Howard Davies on the plight of China's young and why a young Contonese trader has a photo of him on her bedroom wall.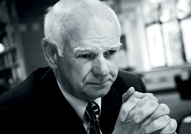 Beijing is not famed for its weather. In the summer it is too hot and often coated in sand blowing in from the desert. In the winter it is too cold and grey. The impression is of a city shot in black and white. But this year the early autumn was delightful - sunny days and balmy evenings. So after a hard day discussing the finer points of Chinese derivative markets (racy, in a word) I took a stroll round Financial Street - the Beijing equivalent of Canary Wharf - where all the regulators and financial institutions huddle together for warmth.
One of the good things about travelling in China is that you are very rarely accosted in the street. I guess the police don't like it, which is quite a disincentive to panhandlers, but there is also a natural reticence and pride. So I was surprised to be pulled up outside the Westin by a young backpacker who called me 'Uncle', and told me a complicated story about being a student from a town 200 miles from the capital who had failed to find work and wanted the bus fare to go home. She certainly wasn't offering any other services, if that's what you are thinking.
I do not have any Chinese nieces, as far as I know. Indeed, I don't have any nieces at all. So perhaps it was the tug at unused avuncular feelings that made me part with 100RMB. If this turns out to be a regular hard-luck story deployed with foreign financial folk, I shall feel a fool. But the story resonated with what one hears about the problem the Chinese now have, with armies of well-qualified (her English was quite good) yet unemployed graduates.