Howard Davies: The MT Diary
A disgruntled Greek's tirade; Albania's Pompeii; Boston after Tea; and will Labour talk Balls?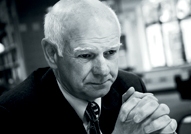 The sage observations of taxi drivers on the passing scene make few appearances in this diary. That is partly because the wise cabbie is a cliche and partly because in London I cycle everywhere, so they cut me up more than put me right. But I will make an exception for the loquacious Greek who picked me up at Corfu airport on a short late-summer sailing excursion.
He was - how can I put this politely? - not the greatest fan of the government of prime minister Papandreou, which is engaged in an EU/IMF-led cost-cutting programme that makes George Osborne look like the last of the big spenders. After 10 minutes of unprintable, ungrammatical but heartfelt abuse of his government, I asked if he was therefore a supporter of the other lot, led by Karamanlis. 'The same criminals,' he said. 'Pepsi-Cola - Coca-Cola,' thus casting aside billions of dollars of marketing spend in a trice.
Greece looked oddly normal in spite of the supposed devastation being wrought by evil foreign financiers. In other words, the food was still lukewarm and the wine slightly off. So, in search of a better meal, we sailed through the Corfu channel, full of sunken British destroyers, across to Albania, which has recently become a little easier to penetrate than it used to be.
We had called up an agent named Ben who offered to find us a place to tie up in a friendly seaside resort called Sarande. When we pulled in, there were two guys waving madly at us, trying to coax us towards them. One was Ben and the other a freelance operator (Bill, probably) tipped off by the port authority, which we had called to announce our arrival. Eventually, we discovered which twin was the Ben and tied up alongside.