Howard Davies: The MT Diary
Why the Rolls Royce boss still smells of Roses; Browne report good, Green report bad; Asia hots up.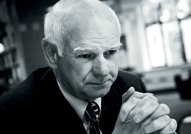 'Can I offer you a bread item at all?' is the sort of question you don't want to wake up to on a long flight home from Singapore. It makes you instantly nostalgic for the clipped abbreviation of Singlish. But the Singapore Airlines Airbus A380s were not flying while their Rolls engines were in for an MOT, so a tired BA jumbo it had to be.
At Rolls-Royce, John Rose's reign has been outstandingly successful. He has not suffered much from his near-pathological aversion to the media, though a succession of hapless corporate relations directors have tried to change his mind. But this time, one wonders. Might a reassuring interview not have been a good idea, to calm nerves and show the company cared? Maybe those unfortunate PR guys weren't all wrong.
One reason for Rose's success, I believe, has been his single-minded focus on managing the business. He has kept out of romantic entanglements with successive govern- ments. Not for him a loopy and wholly failed Branson campaign to rid the London streets of litter, or a Sugary flirtation with late-period Brown. That led to ermine but little else.