Howard Davies: The MT Diary
Our columnist reflects on Libya, in the month in which he lost his job in high-profile circumstances...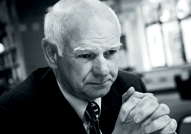 March was a momentous month in the Davies household. An important chapter in my life came to a rather sad end. It was quite unexpected. Even at the end of February there seemed little sign of trouble ahead. We were purring along nicely.
Then, out of a blue sky, trouble struck. Initially it seemed little more than a cough and a splutter, so to speak, but things deteriorated rapidly, and in a rather public and embarrassing way. In just a few days, I realised that it was all over, and I needed to get used to the pain of separation.
I was very unhappy about it, I can tell you, and blamed myself. I had been in a state of denial. If I had realised at the right time that rust had taken hold in the chassis, my Stag would still be alive today. A trusty friend since 1998, she now stands mute and immobile in the garage, sans power, sans MoT, sans everything.