Howard Davies: Nightmare on Wall Street
MT DIARY: Portuguese problems, bargain books in Lansing, Michigan and a miserable start to the year for the US financial markets.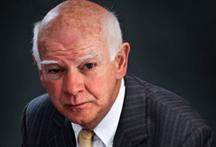 Not many foreigners go to midweek Benfica league games in Lisbon in January, especially when it is pouring down. I can assert that confidently, as when I turned up at the Multimedia Bilheteria (ticket office) with my internet receipt they said, 'Ah Mr Davies, we have been expecting you,' just like in the Bond films. The stadium holds 65,000, but there were only about 30,000 there for the game against Marítimo, who are apparently almost the best team in Madeira. Even that modest claim was hard to believe as they crumpled to a 6-0 defeat, twice conceding two goals in a minute, on the second occasion in the form of two identical penalties.
Even though there were six goals it was about as exciting as watching Manchester United, and you can't say worse than that these days. Though you can get tasty almond tarts delivered to your seat, which gives the Estádio da Luz the edge over Old Trafford, even in a downpour.
Apart from the footy, Portugal is in an interesting condition. Their recent elections delivered a tricksy outcome. The centre right remains the biggest party, but can't form a majority government, so a leftist coalition is having a go, but it is an eclectic group of mainstream socialists, Corbynistas Portuguesas and some Varoufakian austerity-deniers. Whether you shake it or stir it, it looks about as stable as the shadow cabinet. If there weren't so many other places to worry about in Europe we would be hearing a lot about the Portuguese threat to the stability and growth pact. If you could buy a put option on the Lusitanian economy, I think I would.