Howard Davies: Can Star Trek help stop Brexit?
MT DIARY: Why the Starship Enterprise could save the EU, Frankfurt's quiet nightlife and Dublin's growing economy.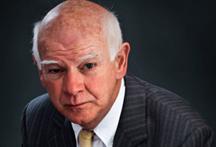 For a few months this spring, as our referendum date with destiny approaches, our 'Euroamis' are genuinely interested in what is going on in London. Will we, won't we, will we, won't we, will we leave the dance?
There is not much interest in the contents of the Settlement, as we must now call it, except among banking supervisors, oddly, for whom the consequences could be serious.
At a seminar on the future of European banking in the Goethe University, to fend off further questions on the detail I suggested that the audience might have a look at the British Government's paper The Best of Both Worlds, which sets out the prime minister's negotiating achievements in persuasive purple prose.