HS3: Have you ever actually tried to get from Manchester to Leeds on the train?
Those arguing against the chancellor's proposed line are southerners used to covering large distances, fast. Anyone who's ever been stuck in Rochdale knows HS3 is a great idea, says Emma Haslett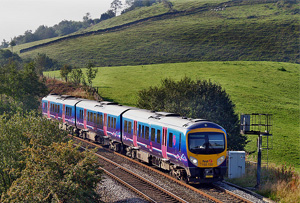 A quiz question at the pub around the corner from where my husband-to-be grew up in Hebden Bridge has become family legend: 'name all the stations on the train line between Manchester and Leeds'.

The answer, which no one got, is this: Manchester, Rochdale, Smithy Bridge, Littleborough, Walsden, Todmorden, Hebden Bridge, Mytholmroyd, Sowerby Bridge, Halifax, Bradford ('Interchange' for an extra point), New Pudsey, Bramley, Leeds. In all, it takes an hour and 28 minutes. The diesel-powered trains that navigate this circuitous route are relics of traditional British grot: ancient, cramped, filthy, and full of teenagers trying to escape places like Mytholmroyd and Sowerby Bridge. An emblem of a modern, business-savvy region competing convincingly with its southern counterparts, they are not.

So the chancellor's (admittedly rather vague) suggestion of a £7bn high-speed line between Manchester and Leeds must be a pretty exciting prospect to those trying to run businesses in the north. Manchester and Leeds may still (600 years after the Wars of the Roses) be in fierce competition, but I wouldn't wish the horrors of the TransPennine Express on my worst enemy. There's nothing quite like ending up stuck in Rochdale because of a broken-down train to provoke a serious bout of reflection on where your life is going (answer: it's broken down in Rochdale). An unpleasant surprise when all you hoped for was a quick meeting with your accountant and maybe a bite to eat at Pizza Express Salford Quays.

Southerners are used to covering huge distances, fast. London to Paris is 283 miles, we do it in two and a half hours; to Cambridge it's 62 miles, which we do in 50 minutes; to Bristol is 118 miles, we do it in a touch over an hour and a half. Between Manchester and Leeds is 44 miles. No one should have to endure an hour and 28 minutes of diesel fumes to go that distance.

Critics have fallen over themselves to lump the chancellor's suggestion (I'm not sure it's developed to the point of being an actual 'plan' yet) in with HS2, but that's a mistake. HS2 is a pricier version of the West Coast mainline, which, basically, already exists. HS3, if it ever gets off the ground, will transport people between two of the UK's largest cities, without them ever having to consider the existence of Rochdale. That, by itself, is progress.

As I understand it, there's only one relatively strong argument against the idea: the small matter of the Pennines. As anyone who's ever travelled the length of France in a TGV will tell you, fast trains aren't so fast when they're trying to negotiate a set of mountains - and they need large distances to get up to speed. The distance between Manchester and Leeds isn't enough. But that doesn't mean there isn't scope there for less arduous line between the two cities, even if it's not high speed.

Admittedly, on the face of it, the idea does look suspiciously like one of those ones governments come up with in the year before an election to make everyone vote for them. But I'm not really convinced by that criticism. As long as something happens, who cares where the idea came from?