HS3: Plans are afoot to cut journey times up north
David Cameron and George Osborne have backed plans for a high-speed line from Leeds to Manchester.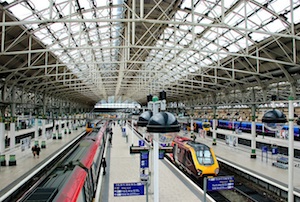 If you've ever tried to travel from one side of the north to the other then you'll understand the thinking behind the plan announced today for a high-speed line across the Pennines. While Britain's intercity network can get you to London from most places in a reasonable amount of time, getting from anywhere in Yorkshire to the north-west, even between major cities, is an unbelievably frustrating experience.
Today, the Government has thrown its weight behind plans to address this, starting with a high-speed link, dubbed HS3, from Leeds to a Manchester. At present, a train covering the 30 or so miles between the two cities, arguably the north's most important hubs, takes 55 minutes, often in cramped, sardine-esque conditions. The new line could more than halve that to as little as 26 minutes, as well as slashing east west travel times across the north, from Liverpool to Hull.
After decades of neglecting the transpennine route, the Government's announcement comes just sixth months ahead of the next general election, as the Conservatives seek to woo voters in the north.