HSBC and the art of the public apology
HSBC boss Stuart Gulliver said sorry for the Swiss bank scandal yesterday, but what really makes a good apology?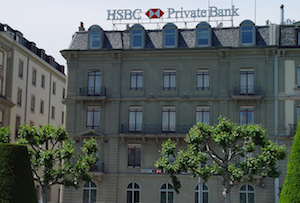 If anyone's on good terms with Elton John, they'd better tell him: sorry, it seems, is no longer the hardest word. Businesses, like politicians, have become quite adept at public contrition in recent years, as their PR departments have expanded.

The latest example is HSBC's Stuart Gulliver, who offered his apologies for historic practices at the firm's Swiss Private Bank. Appearing before the Treasury Committee yesterday with chairman Douglas Flint, Gulliver reiterated in person what he'd said in a letter published in the media last week.

'I would like to put on public record an apology from both myself and Douglas for the unacceptable events that took place at our private bank in Switzerland in the mid 2000s,' Gulliver said. 'It clearly was unnacceptable. We very much regret this, and it has damaged HSBC's reputation.'

It's not exactly renting one's clothes and casting oneself out into the wilderness, but it's a decent start. But what does a perfect corporate apology look like? MT takes a look at some of the great apologies of recent years to find the essential ingredients.
Assume reponsibility
People expect someone to take the blame when something goes wrong, but assigning blame on subordinates looks classless and childish. A 'the buck stops here' response is far more Presidential, but falls short of saying 'this was my fault'.

Though it was doubtless sincere, Flint's apology doesn't quite hit the mark. He said he would 'take his share of responsibility' for the scandal, but added when pressed that 'the individuals most accountable for the data theft and the behaviour that was unacceptable to our standards, was [sic] the management in Switzerland'.

Gulliver does somewhat better. 'I wasn't running the private bank at the time,' he said, 'but I have spent 35 years working with HSBC, so there is a proximity issue'.
Say sorry
Refusing to actually say the word 'sorry' is a big mistake. Rather, it should be deployed judiciously in a way that shows genuine remorse. The prime example of someone who didn't quite get the balance right is BP's Tony Hayward, whose profuse apologies for the Deepwater Gulf oil spill in 2010 earned him scorn in the US.

'The first thing to say is I'm sorry', Hayward said on the local news. 'To those affected and your families, I'm deeply sorry,' he continued on a TV advert, repeated ad nauseam. 'I'm very, very, sorry that this accident occurred', he told American politicians, 'very sorry.' Ever noticed how a word repeated often enough starts to lose its meaning (sorry)?

So far, so good, but then Hayward went off script. 'We're sorry for the massive disruption it's caused their lives. There's no one who wants this over more than I do. I'd like my life back.'