HSBC boss Antonio Simoes slams closeted gay bosses
Business leaders have a 'huge personal responsibility' to come out.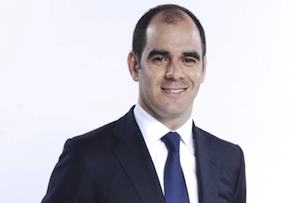 HSBC's UK boss Antonio Simoes has publicly criticised LGBT business leaders who refuse to come out, saying they had a 'huge personal responsibility' to leave the closet.

'We're in London, we're in 2014. It's not acceptable that we take for granted all the work done by others on issues such as marriage equality,' he said at the LGBT Out on the Street summit, hosted by Deutsche Bank yesterday.

Simoes, who spoke publicly about his sexuality for the first time in a video message to employees last year, said coming out had made him more 'authentic' and 'a more empathetic and better leader'.

'I am the short, bald, Portuguese, gay guy. I have started to use it as a positive element of my personality,' he said. Simoes recently took second place behind Burberry's Christopher Bailey in networking group OUTstanding's list of influential LGBT business leaders.

The HSBC boss' comments come after Apple CEO Tim Cook came out publicly for the first time in an op-ed two weeks ago, declaring, 'I'm proud to be gay, and I consider being gay among the greatest gifts God has given me'.

Diversity is pretty much universally acknowledged to be good for business, but Simoes' admonishment indicates there are still plenty of leaders who are uncomfortable with talking publicly about their sexuality. They as much as anyone should appreciate the need for role models.