HSBC boss warns of 'very odd form of independence' for Scotland without currency union
The Yes Campaign faces a tough final stretch as business voices murmur against independence.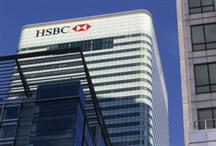 HSBC's chairman Douglas Flint - a Scot based in London - has become the latest and most senior business leader to challenge the economic case for Scottish independence.
Writing in the Telegraph today, Mr Flint praised the currency union as the 'anchor' of Scottish financial stability and warned of the costs of giving it up.
Describing all the alternatives to currency union as 'complex and fraught with danger', the chairman of Britain's largest bank reserved particular concerns for the rather painful-sounding strategy of 'sterlingisation' – Scotland cheekily continuing to use the pound without permission. This would mean that the Bank of England would not operate as the lender of last resort in an independent Scotland.