HSBC fines could reach $1.5bn
Britain's largest bank has warned shareholders it could be fined more than $1bn by US regulators over money laundering.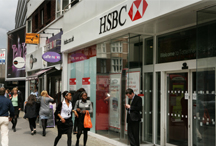 The bank today reported that Q3 pre-tax profits dropped to $3.5bn (£2.2bn) compared with $7.2bn in the same period last year. The fall was down to money set aside for money-laundering related fines, and the bank said it had doubled its contingency for from $700m to $1.5bn, but suggested that the ultimate total could be even higher. The money-laundering accusations have come from US regulators suspicious that the bank handled money from Mexican drug cartels, as well as embargoed nations such as Iran and Sudan. HSBC is yet to reach any agreements with regulators.
In a statement released on Monday, the bank explained that it might have to face criminal charges on top of fines imposed by regulators, which could bump up the size of the total payout. In its Q3 results statement, HSBC said: 'While the prosecution of corporate criminal charges in these types of cases has most often been deferred through and agreement with the relevant authorities, the US authorities have substantial discretion, and prior settlements can provide no assurance as to how the US authorities will proceed in these matters.' In other words, it has almost no idea how big the fine is going to be. Or how far authorities will want to pursue the allegations.
Unfortunately, the bank's woes do not end there. It has also had to make a $5.8bn charge against its own debt to comply with a controversial new accounting rule, and set aside another $353m for PPI-related 'customer redress'. Presumably that means compensation for customers that were mis-sold payment protection insurance. Still, as you might expect, the bank has tried to play the 'underlying profit' card in its statement, saying that if all of these 'one-offs' were excluded, profits would have risen $2.8bn in Q3 year-on-year. The statement even added rather defensively: 'It is on this basis that we measure our performance.' Harrumph.