HSBC to float UK arm?
The 'world's local bank' is considering spinning off its UK retail division at a valuation of around £20bn, according to reports this morning.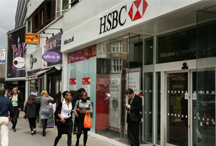 The proposal, which the FT reckons is still at an 'early stage', would be to list a minority stake of around 30% on the London Stock Exchange, at a valuation for the entire business of around £20bn.

The floated business would consist only of HSBC's UK retail and commercial banking operations, with investment banking remaining with the existing group. MT'ers of a certain age will recall with a wry smile that this would amount to a near-complete reversal of HSBC's purchase of Midland Bank back in the early 90s.

So much for the what, how about the why? It's all down to ringfencing. The Vickers report on banking requires that retail banking - Joe and Joanna Public's savings and mortgages plus the deposits and loans of business customers - be kept firmly out of the hands of those reckless gamblers in investment banking who caused all the trouble in the first place, so that they can't use the money to pump up another crisis. (Which all sounds very sensible except for the awkward fact that the Great Crash actually began in retail - specifically mortgages - and not in investment banking).

Anyhow, the rigours of establishing such a ringfence within a large global bank like HSBC are apparently such that it really isn't a great deal more effort to sever the ties completely with an IPO. Especially so in HSBC's case, as it is already set up as a global network of national businesses, simplifying any eventual split considerably.

So even though the regulations don't require it, it seems that the bank's bosses may have decided to go the whole hog. You will be surprised to hear that this is not because of a sudden burst of enthusiasm for over-delivering on regulatory requirements, however. Rather that such an arrangement may suit HSBC in a number of other ways.

For starters, an independent listing would make it much easier for HSBC UK to raise extra money to keep up with those pesky new capital requirements for London banks. It might also help to boost the overall value of the group, as a separate UK bank could attract a higher valuation as the British economy recovers.

And lastly - although HSBC strongly denies that any such thought is on its mind - it would also make it a good deal more straightforward to shift the bank's global HQ from London to Hong Kong, should that become, ahem, desirable at any point in the future.

This you recall has been mooted once or twice in the past, and the fact that HSBC, the vast majority of whose business is overseas, is expected to pay 40% (some £900m) of the Treasury's UK banking levy has caused industry watchers to wonder if it might be cropping up again sometime soon. Hmm.

If HSBC boss Stuart Gulliver goes ahead with the IPO wheeze, HSBC will be in good company - Lloyds is due to float TSB next year and RBS is planning to do likewise with a new bank under the old Williams & Glyn's brand in 2015.

It looks like a bad case of Back to the Future is about to break out in the banking business.