HSBC takes $4bn hiding in US
HSBC lost $4.3bn on the US housing market last quarter. And that's one of the healthier banks...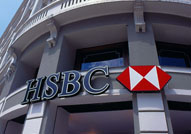 In a trading update today, HSBC said bad debt charges in its US business jumped by $700m to $4.3bn in the third quarter of the year, as the housing market continued to implode. After a $3.6bn write-down in the previous quarter, it's now waved goodbye to almost $8bn in the last six months, so it's no surprise that profits for the year-to-date are running below the equivalent figure for last year. However, the continued strength of its Asian operations (for the time being, at least) is helping the bank to weather the storm better than most…
HSBC was one of the first to come clean about the parlous state of its US sub-prime investments back in February, one of the first hints of just how toxic this market really was. And clearly its US investments are still taking a hammering, as the worsening economic situation across the pond forces more homeowners to fall behind on their loan repayments. HSBC said today it was having particular trouble with mortgages taken out in 2006 and 2007 – i.e. those people who borrowed more than they could afford at the very top of the market. It's also starting to see defaults in its credit card business.
The bad news for HSBC is that recovery is still a long way off in the US; so although it's in the process of running off its mortgage portfolio, there'll almost certainly be more painful losses to come. 'Our US results in HSBC Finance were broadly in line with our expectations but current trends point to further deterioration in the near to medium term,' said CEO Michael Geoghegan today. 'Recovery depends on the success of further economic stimulation, which is likely to take some time to take effect.' In other words, he's hoping for an Obama miracle.