HSBC's record $1.9bn money-laundering fine
It's the largest sum ever paid out in a money-laundering case. And it's not over yet. While the US authorities have been appeased, UK regulators are still awaiting their share of the 'mea culpa' booty.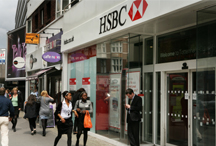 HSBC is to pay US authorities an eye-watering $1.9bn (£1.18bn) to settle allegations over its failure to enforce anti-money laundering rules. That's a fair bit more than the $1.5bn HSBC set aside for the fine last month.

In return, the US Department of Justice has agreed to defer prosecution of the bank's executives, after these 'loopholes' left America's financial system exposed to drug cartels.
Coming as it does after suggestions that foreign banks in New York may have additional capital requirements imposed on them, some observers reckon this is an example of quasi-protectionism by the US. The rhetoric used in a US Senate investigation certainly backs up this theory: it suggested that HSBC had become conduit for 'drug kingpins and rogue nations'. Fodder for John Grisham's next novel, this.
Stuart Gulliver, HSBC's CEO, was going large in his apologies for any and all wrongdoing this morning: 'We accept responsibility for our past mistakes,' he said. 'We have said we are profoundly sorry for them, and we do so again. We will continue to work closely with governments and regulators around the world.'

And the next government awaiting a nice juicy fine is our own. HSBC is currently in talks with the UK's Financial services Authority to settle on an amount.

In the meanwhile, Gulliver and his underlings have been busily remodeling the bank into a paragon of financial virtue. Some $290m has been spent on improving its systems to prevent future instances of money laundering. Fingers, toes and everything else crossed that the systems work...

In addition, some of the executives implicated in the wrongdoing (HSBC's hard line on this now insists that ignorance is not an excuse) have also had their bonuses clawed back. HSBC now needs to keep its nose clean for five more years, during which the DoJ will maintain a close watch on all the bank's activities.

A new head of financial crime compliance position has also been created – and filled by a US official – Bob Werner, formerly head of the US Treasury's Office of Foreign Assets Control.

This may have been a blatant ploy to appease the Americans but it's working. BBC business editor Robert Peston reckons that things could have been even worse. 'If HSBC had been indicted for these offences, that would have meant that the US government and others could no longer have conducted business with it, which would have been humiliating and highly damaging,' he says.

What impact will these huge fines have on the bank's results? Given that HSBC made pre-tax profits of $12.7bn for the first six months of 2012, it has a little wiggle room. Let's just hope no more dollar-bill-clad skeletons fall out of the closet…