Another humiliation for BP
The bad news keeps on coming for BP. The oil giant has been slapped with a $373m fine by the US Department of Justice, just days after new chief executive Tony Heyward admitted to a 45% drop in its profits last quarter.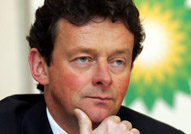 The penalty covers the three biggest skeletons in BP's closet. It was fined just over $300m for the 2003 price-fixing scam, when four BP workers conspired to manipulate the price of propane, and a further $50m for the Texan refinery explosion in 2005 – both record fines of their type. There was also a further $20m charge for the Alaskan pipeline leaks last year.
The Environment Protection Agency was not pulling any punches yesterday, saying BP had committed 'serious environmental crimes…with terrible consequences for people and the environment'. Not surprisingly, BP America chairman Bob Malone was in full grovel mode.
And the pain is likely to keep on coming. The company has already shelled out $1.6bn settling personal injury claims over the Texan explosion (which killed 15 people and injured 170 more) but with more cases still pending, the final compensation figure is likely to be even higher. The only minor consolation is that at least BP won't face criminal charges over the whole debacle now.