Hung up your boots and hard up? Head to Cardiff
Cardiff is the cheapest major UK city to retire in...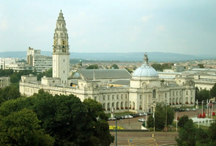 So Wales delivered the Ryder Cup luck this afternoon – gifting victory for Europe at the 17
th
at Celtic Manor. But it may soon welcome a flood of people packing the golf clubs and heading down the M4 for a different reason: Cardiff is apparently the cheapest major UK city in which to wile away your retirement years.
In a study that'll prick the ears of many people approaching retirement age (around 84 the way things are currently going), retirement planner MGM Advantage analysed household expenditure and life expectancy data, and found that someone retiring this year could need an average annual household income of £26k to see out their retirement if they lived in Cardiff – a hefty £9k less than London. That kind of saving will buy you a lot of time at the nineteenth.
The only downside is that it means retiring in Cardiff. This isn't meant as a slur on Wales, but it hardly nestles alongside Florida as the stuff of retirement dreams – the weather at Celtic Manor down the road in Newport is certainly a handicap when it comes to enjoying a casual round, for starters. And given how low the cost of living is in overseas locations like Spain, surely given the choice you'd have to be tempted to just pack up and head over there.
Still, not everyone wants to up sticks and follow the trail of citrus and sun, and such information could be handy for those for whom a tighter budget means more realistic ambitions. These days that's an increasing number, with lower pension contributions, greater life expectancy and Bank of England deputy Charlie Bean – who last week told us all to go out spending not saving – conspiring to make our rainy-day pots less viable.