Hurry up, Darling
Chancellor of the Exchequer Alistair Darling told the House of Commons on Thursday that he won't be unveiling his final proposals on capital gains tax reform until the New Year. This could mean that he needs more time to make substantial modifications - or it could just mean that he wants to put his feet up over the Christmas holidays...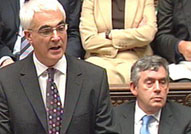 The Chancellor had promised to unveil his full plans before Christmas, i.e. this week or next. However, he said today that his discussions with the business community – who have been frantically lobbying against the plan to increase the bottom rate of CGT from 10% to 18% – would not be concluded until the New Year. So now it looks as though there'll be nothing concrete until the middle of January at the earliest.
The Treasury has already suggested it would make one concession – making the first £100,000 tax-exempt for business owners who are selling up to retire. So this delay could suggest that he needs some extra time to build in further concessions.
The problem is that this doesn't exactly leave business owners much time to cut their cloth accordingly. The new rules are due to kick in next April – so it seems ridiculous that four months beforehand, nobody knows what they're going to look like. And assuming he does deliver in January, they'll then have less than three months to work out their next steps. That probably won't be enough time to push through a sale, even if they decide that's the most sensible option financially.