Could this hydrogen powered Toyota be greener than a Tesla?
Elon Musk's machines may hog the limelight, but the fuel-cell powered Toyota Mirai is probably the most technologically advanced car you can buy.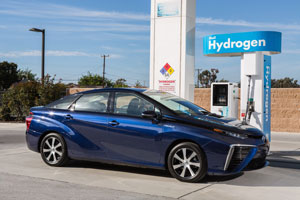 When it comes to tomorrow's cars, today, Tesla's get all the glory. Fast, sleek and zero-emissions – what's not to like?

But such so-called Battery Electric Vehicles (BEV's) are not the only game in town in terms of greener replacements for the fume and CO2 spewing Internal Combustion Engine which has been under the world's bonnets since the early 20th century.
Take the new Toyota Mirai. Like a Tesla (or more everyday rivals the Nissan Leaf and Renault Zoe) it is powered by an electric motor. So it has all the advantages of zero tailpipe emissions, smooth quiet acceleration, zero road tax and no congestion charge.