'I don't know why more companies aren't based in Wales' - Henry Engelhardt
YOU LIVE AND YOU LEARN: The CEO of Admiral on why insurance is fascinating, giving employees shares and his love of rugby.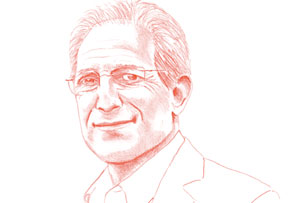 I began my professional career in the madhouse that was the Chicago mercantile exchange. I was a runner, the lowest of the low. Starting at the bottom is a great way to learn a business. I still get people joining our senior management to do entry level training with 19-year-olds.
After six years I became disillusioned and left with my French wife for Europe, where I became a management consultant. There's a lot less ambition here than in the US. People aren't afraid to fail there, but in Europe failure can leave you marked.
I got into car insurance by accident. I'd seen an advert for a marketing manager in a financial services start-up. When I asked what it was, the woman sounded like she wanted to crawl under the table and hide. 'Well, it's car insurance,' she said. How dreadful, I thought. What could be more boring? But, as I didn't want to be a management consultant, I went for the job.