'I was a double for Neville Longbottom' - Bertie Stephens, Flubit
20 QUESTIONS: The founder of the Amazon price-beating site talks Robot Wars, freezing on film sets and filming Elon Musk's wedding.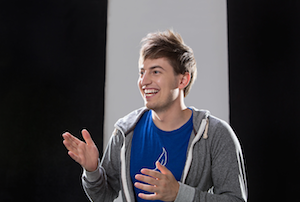 1. IF YOU HAD DONE SOMETHING ELSE WHAT WOULD IT HAVE BEEN?
Before this, I wanted to be a film producer. It has all the same elements around it - putting together teams of people, not knowing what the final product will look like, but having a good idea of what you want to achieve. If you've never run a business, putting together a short film is incredibly useful.
2. WHAT ELSE WOULD YOU NAME YOUR BUSINESS?
People say 'Flubbit' or 'Floobit', so I would name it something people know how to pronounce cleanly and crisply. I've often had a debate with myself whether I would name it something where you know exactly what it is from the name – so, for example, Create A Lower Price or something like that. The only alternative I ever had was Hapsie, which was the idea of using the site makes you happy, because you're saving money. We went with Flubit in the end, because it's a noun and a verb.
3. IF YOU COULD BE BASED IN ANOTHER CITY WHERE WOULD IT BE?
Berlin. The choice would be between the US or Germany, and right now the German tech scene is growing at the same rate as London is and Germany is the second biggest ecommerce market in Europe.