'I left the office on Friday and gave birth on Saturday' - Hassle.com's Alex Depledge
It's not hard to be a woman in tech, the entrepreneur said.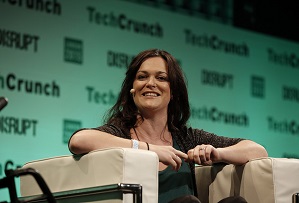 Women will continue to face a glass ceiling unless the gap between maternity and paternity leave is closed. That's the opinion of tech entrepreneur Alex Depledge, who recently sold her home cleaning start-up Hassle for a reported eight-figure sum.
Speaking at TechCrunch's Disrupt conference in London, the entrepreneur recounted her own experiences of being pregnant whilst manning the helm of a fast-growing firm. 'Even my mum said to me, Alex are you going to step down as CEO now that you're pregnant? Lots of people asked me that question – investors, other entrepreneurs,' she said.
But her mind was made after speaking to fellow tech founder Debbie Wosskow (founder of Love Home Swap) and VC Eileen Burbidge. 'They just said to me, "Fuck it. Of course you can do it, people have done it before, you will cope with whatever you put on your plate."' She said. 'So I did, I did exactly that. I left the office on Friday and I gave birth on Saturday, and the company didn't suffer. In fact the company was a better company for it, because I had nine months to plan.'