Can I unplug my audience?
A public speaker wants his audience to switch off their gadgets. Does that make him boring?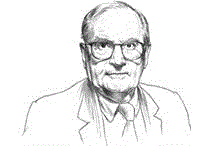 Q: I've been asked to give a 25-minute presentation at a conference next month. I'm keen to do it but I find it very irritating when I spot members of the audience tapping away on their laptops or staring at their phones. Can I ask the audience to put their electronic devices away, or will I look like an old fuddy-duddy?
JEREMY SAYS: I'd strongly advise you not to put such a request to your audience. You'd have to do it at the very beginning of your presentation, which would immediately suggest that you had little confidence in your ability to hold their attention. You would have lost their goodwill before you'd started. And, secondly, many of those tapping away may be taking notes of the points you're making; you may find it distracting but it's an increasingly common habit and you'd lose marks for seeming to be unaware of it.
Concentrate on doing what you should be doing. Put yourself in your audience's shoes. Imagine what it's like to be listening: it's not their job to find what you have to say interesting; it's your job to contrive to be of interest to them. So intrigue, engage, illustrate; and I don't mean tell a couple of extraneous jokes and then say, 'But seriously ...'