All I want for Christmas is a bonus, say two fifths of workers
Around 40% of the nation's managers say a bonus would be the best Crimbo present, but 80% are not expecting to get one, a new survey suggests. Bah humbug.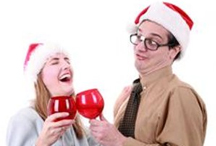 A poll by the Institute of Leadership & Management (ILM) has shown that a Christmas bonus is at the top of managers' Christmas list this year, but most of the 1,500 surveyed are not hopeful that one is on its way.
The second choice for a Christmas gift was a promotion (15%), followed by more staff on their team (13%) and then more training (12%).
ILM boss Charles Elvin said: 'Whilst a promotion offers a longer term benefit for managers' careers, the gift bosses are hoping for is a bonus, despite most believing they will not get their wish.