'I wouldn't say I'm a massive outdoors man' - Mark Neale, Mountain Warehouse
MY STYLE: The Mountain Warehouse boss takes us through some of his favourite things, including organising Glastonbury for dogs.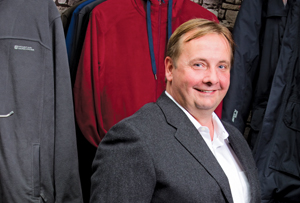 Work
I drive in to work from my home in St John's Wood for around nine, after I've taken my dog, Ray, a Shar Pei, for a walk round Regent's Park. My day is usually filled with a series of informal meetings about the latest products and new stores. We've got around 180 shops - mostly in the UK, although we have some in Poland and we're hoping to go into Germany soon as well. I hardly ever wear a suit, although I don't wear jeans. I would say my style is smart/casual.
I do wear shirts, but I don't really have a particular brand - I usually go to M&S or Banana Republic. I get lunch from Pret across the road from our office in Victoria. I occasionally have a business lunch - we're lucky to have the Boisdale next door, although it's hard to get in. I try to go out of London once a week to visit a shop - we've got a few in the Lake District and some in Devon and Cornwall I use the train journey as a chance to catch up on emails. I'm not an app lover, although I can't live without our own app, which tells us our sales for the day and how the business is doing. I also use the weather app, praying for rain - great for business.
Travel
I travel abroad every couple of months to visit potential sites in Poland or the Far East for sourcing - our stuff is made in China, India and Bangladesh. I fly with BA, business class, with my iPhone 5s, iPad and moisturiser, in our new Mountain Warehouse luggage range (20% off to MT readers). We holiday in the States a lot - my wife lived in New York before we got married, and my stepson is a New Yorker. Last year, we took my parents, my mother-in-law and the kids on a four-night train trip from Toronto to Vancouver.