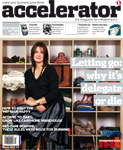 <I>accelerator</I> survey of SME opinion
The launch issue of accelerator, a new magazine for entrepreneurs from the MT stable, has hit the newstands. Here are the results from our inaugural reader survey. We asked over 500 people from SMEs to share their thoughts about life on the frontline of UK plc - likes and dislikes, opportunities and threats, and what - if anything - keeps them awake at night. Oh, and what they think of government attitudes to entrepreneurs, too (no prizes if you guess the answer to that one)...
Published: 29 Mar 2007
Last Updated: 09 Jul 2013
To download a pdf of the
accelerator
survey,
click here
Find this article useful?
Get more great articles like this in your inbox every lunchtime