IAG is soaring - but investors are still disappointed
The airline group reported healthy profits, but lagged behind analyst expectations.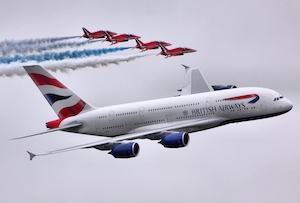 You reveal growing sales and healthy profits, report your latest mega acquisition is integrating nicely and even unveil your first dividend. Yet still your shares fall. What's a CEO to do?
Such is life for International Airlines Group boss Willie Walsh this morning – not that the straight-talking, job-slashing Irishman will let it ruffle him. The owner of British Airways, Iberia and, since August, Aer Lingus, reported third quarter profits rose 38% to €1.25bn (£900m). But shares nonetheless dropped more than 4% to around 573p this morning.
It increased its full-year profit forecast from €2.2bn to €2.25bn-€2.3bn. But that didn't impress analysts, who had predicted an average of €2.31bn. The markets may also be disappointed its third quarter earnings didn't make even more hay from low oil prices. Yesterday, Air France-KLM and Lufthansa reported profits had trebled and risen 42% respectively, although both were lower than IAG's.