How Ian Ayre transformed Liverpool FC's commercial fortunes
Since Ian Ayre joined Liverpool in 2007, commercial revenues have jumped by about 85%. Here he tells MT why - and what happens next.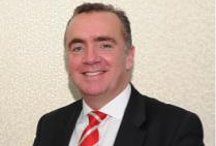 Liverpool FC's latest financial results, for the year to July 2010, don't look particularly positive: the club made a £20m loss, thanks partly to £17m in interest payments on the £123m debt piled onto the club by its much-despised previous owners, Tom Hicks and George Gillett. But there was some good news in there too: revenues climbed to £184m, as the club continues to benefit from the remarkable transformation in its commercial fortunes since hiring Ian Ayre in 2007. And now the club is largely debt-free, following its acquisition by US-based Fenway Sports Group in October, it should be well-placed to cash in.

MT spoke exclusively to Ayre – recently promoted to MD by the new owners – to find out what exactly he changed when he joined the business, and how he plans to build on this now he's in the top job. We also asked him how he persuaded Standard Chartered to stump up £80m to sponsor the club's shirts, what he thinks is special about the LFC 'brand', how he'd deal with badly-behaved players; what the club's commercial plans are overseas; and what he thinks about the much-maligned 39th game...

MT: When you first came to Liverpool, what were the problems that needed fixing?
IA: Both as a fan, and as someone who'd worked on the commercial side of football, it was pretty evident that Liverpool wasn't punching its weight. It hadn't really capitalised on the growth of football. Revenues had grown for all clubs almost by default because of the size of media contracts and so on, but in Liverpool's case, the club hadn't geared itself up to support and manage that revenue growth. It's like the corner shop growing into a superstore without bringing any staff in.

Was the situation worse than you expected?
Very much so. The biggest surprise was the lack of bodies in core areas. There seemed to be a whole layer of middle management missing, plus a whole layer of infrastructure. Lots of the commercial elements had been outsourced - sponsorship, the retail business, our media channels, even the catering - and these elements are at the core of how you globalise and develop a big football club with a truly worldwide reach. So we were at an immediate disadvantage.

So what did you do?
If you want to capitalise on opportunities and provide the right things for the fans, you need people who understand what makes this club special and unique, and what it is that makes people - either in Liverpool or in Singapore - support the club. So I hired six new senior managers in six different disciplines. Once we'd brought these people in to champion their different areas, we could start bringing all these elements back in-house.

The first hire was on the customer relationship management side. A club like Liverpool has an enormous number of connections with its fans every day - online, by phone, at supporter clubs - but nobody was capturing that data and using it to establish a two-way relationship with them. And if you don't know who your customers are, or where they are, how can you best serve them and make sure there are things for them to buy and enjoy? So we created something called The Single View of the Fan, which means that if you interact with the club in any capacity, we capture that data and create an individual identity for you. There's nothing worse as a consumer than being bombarded with information about stuff you have no interest in. My dad's 70, so he doesn't want to get an email about the new home shirt, because he's not going to buy it. Well actually, he doesn't want to get an email at all.

We also bought out our digital media joint venture (JV). Sponsorship was being sold by Granada as part of the JV, so we brought that back in-house too. And more recently we've also extracted ourselves from our JV on the retail side. So essentially, we were more in control of our own destiny. Since then, every single element of our commercial business has grown. Our revenues are up by 85% over the period, including one of the biggest shirt sponsorship deals in football.
How did you go about getting that deal with Standard Chartered? Was it a difficult sell?
Well we have 13 or 14 different sponsors now, and the approach is different for different categories - beer, travel and so on. But we always try to avoid a shotgun approach to selling anything, so we draw up a shortlist of people in each category. Not everyone does this, but we spend a lot of time before we go to market analysing who's in that market and who's spending money - if we're looking for a £5m sponsorship deal, there's no point us knocking on the door of an electronics company that only has £500k to spend. The shirt deal was obviously a bit different as we looked across all categories - but we only did proper, well-developed pitches to about 15 companies, although we were very confident we'd reach the level we ended up reaching. We only targeted people who had already shown some interest in sport, who we knew would understand the value of working with a club like Liverpool globally; and, where possible, whose culture and values were similar to ours. We ended up with six companies at the final hurdle, all in a similar range financially.

So at that stage is it just about taking the biggest cheque?
We didn't actually choose the one offering the biggest amount of money; another company offered significantly more. But what Standard Chartered had that we thought was more valuable than that additional 20% or whatever, was that there was a real match in terms of what kind of business they are; how they conduct themselves; what markets they're targeting for growth; and how they were going to go about activating the sponsorship internally. And I think it was absolutely the right choice. Even in one season you can see how much value they've gained from being a partner of ours, and vice-versa.

What exactly do they expect to get out of it?
That will probably develop over the term of the relationship. At the outset, it's all about raising the profile of their brand; they're very successful in Asia, Africa and the Middle East, but less well known in the rest of the world. So they want people to know about the bank, and for people in their core markets to know more about the bank. They say that every internal metric they've set to measure the success of this relationship has been surpassed by an unbelievable amount already. So it clearly works for them, and it works for us.

But nothing's set in stone; we've agreed we'll have an open mind about how we'll work together as things progress. Perhaps for the first couple of years it's all about being on the TV channel or the website. But if in later years it's more about other aspects, we'd absolutely have the flexibility to address that.

What's vital is that every year they're with us, and every dollar they spend, they absolutely believe that they get a return on that investment. A lot of sponsorship deals I've been involved with are a bit like, 'this is what it says on the contract, so this is what you're going to get'. But I think that's a very narrow-minded view. It's much harder to get a new sponsor than it is to keep an existing one, and this is a philosophy I've tried to instil in my team - we want to keep everyone we've got, so we'll develop with them and they'll develop with us. Carlsberg's a great example - they were Liverpool's shirt sponsor for 18 years but they didn't walk away at the end; they decided that they wanted to remain part of the Liverpool family.

You said that you think the Liverpool 'brand' is special/unique. Why?
I think the thing about Liverpool is the sense of inclusiveness, going right back to the socialist ideals of Shankly, if you like - the idea that we're all in this together, that we look after each other. There have been lots of examples of that over the years, and I think over the years that's resonated outwards. I've spent a lot of time in Asia, and it mirrors the values in a lot of Asian countries - it's about family, about looking after and having respect for each other. It's little things, like the fact that when teams come to Anfield and beat us, the fans will stand up and applaud them at the end - I've never seen that anywhere else. There's also a lot of respect for the way Liverpool has conducted itself in times of adversity.

Someone said to me recently that if you take a club like Man United, people either love them or hate them - it's the Marmite effect. But with Liverpool, we're more like everyone's second favourite team. So when you're responsible for selling and marketing the brand, you've got to keep that in mind. Part of our attraction is that we're not confrontational; you've got to understand how precious certain things are and not go out and market them to death. Of course, there's no shortage of people who tell me every week that we shouldn't do this or that. But it's about finding the middle ground. And it's also about educating fans in different places - what fans in Merseyside think or want is not necessarily what fans in other places think. So you have to explain sometimes: this product we're making is not for you - it doesn't matter if you don't like it, because it's not targeted at you. It all comes back to knowing the individual customer, and providing a much bigger range of options for people.

Fans often talk about 'The Liverpool Way'. Do you think the recent boardroom shenanigans undermined that? And did that affect the way the club was perceived externally?
There's maybe a bit more cynicism around now. I think it's true that Liverpool lost its way, but it's now coming back to the way it used to be and wants to be. It's a real testament to this football club that through all those difficult times - the sale, the court case, poor performances, managers leaving - through all of that, the business not only survived but grew. That's testament to the loyalty and commitment of our fans, and the commitment of the staff who work here. For the people who work here and support the club, it's not about today or next week. The easiest thing would have been for the fans to vote with their feet, but we were still selling out pretty much every game - they were protesting in the car park, and then filling the stands. I know from my friends on the Kop - they might not have been happy, but they were there to support the team. That's a great great thing for the football club.

How important is the behaviour of the players to the Liverpool 'brand'? What would you have done in the Wayne Rooney situation, for instance?
Nobody should be above the rules. If players or staff don't conduct themselves in a manner befitting of the rules and culture and honour of the club then they'd need to be disciplined. But we've been very fortunate that we haven't had that type of issue.

Would the Liverpool Way mean dealing with the problem behind closed doors? Or is it important to do it publicly?
If someone does something publicly that's disrespectful and brings the club into disrepute then we might deal with it behind closed doors, but it will be pretty public what's happened. There's a great sign up at the Academy, which says that when you come through those doors and join this club, make sure you understand what it means. When anyone arrives here - whether they work in the canteen or play for the first team - they have to understand and respect what this football club is all about and what it means to so many people. Anyone who disrespects that has to face the consequences. People commit a lot of money, time and effort to this club - as fans, as employees, as owners - so it's not fair for people to disrespect it.

Will there be any change to the commercial strategy or focus under the new owners?
The strategy doesn't change, it just moves ahead more positively. The plan was always that we'd clean up the house, surround ourselves with good and effective partners, and bring back all our assets so we're in control of them - that was the first major stage of my business plan. The second phase is to reach out and globalise what we've created - to offer the same level of product to international markets as we do locally. We want to be able to offer a fan in China a similar but different level of buy-in to Liverpool, in different forms and languages and currencies.

What will that involve in practice?
All manner of things. It means real infrastructure and people in certain markets; we've got an office in Singapore, and FSG's sports marketing team are picking up the US for Liverpool, so we've effectively got an office in the US too. We'll also going to be expanding into some other markets - we're just circling in at the moment which ones, and at what size. Then the next stage will be more localised products - local language TV and websites; retail products that are more geared towards that particular market/region at that particular price point. And there's our soccer school business, which is growing significantly at the moment - we've started 6 new schools in the last 8 months. So it's a combination of all of these. The idea is that wherever you are in the world as a Liverpool fan, you should be able to reach out and touch some of our products in a local language/ currency. But it's not one size fits all, it's got to be as tailored as possible.

We'll support that with other things like touring - we'll go on tour to three key Asian markets this summer, for example. But we see tours as the icing on the cake, as opposed to being big revenue generators in themselves. It's all about creating the other things that are going on week to week. Going on tour doesn't make you significant money or build a significant fanbase - what does that is being in people's eyeballs every day. That's what we're trying to create. The team turning up is just the icing on the cake.

Are you a believer in the 39th game?
I don't know - it's fraught with lots of issues. But somehow we have a duty to fans around the world to give them access to the product. So never say never. What was unfortunate about last time was that the idea was created as some kind of reality before it had been thought through. And whatever's going to happen in football, it needs to have been absolutely thought through and every element considered - what's right and proper for the fans, the club, the league, the confederation, the local markets where you'd play. It all needs to be properly considered and I don't think last time that was the case.

Do you think the fans are more accepting of the commercial side of football these days?
I'm a Liverpool lad. We'd all love to think that this is our football club from our city; that we own it. But the absolute reality - in the case of Liverpool, not everyone - is that this is a global brand, one of only a handful of clubs that are truly globally recognised and supported. So you can't have it both ways. You can't hope to be one of the biggest football clubs in the world, with some of the biggest revenues and some of the greatest players, and you can't invite people from the other side of the world to support your team and contribute to your revenues and therefore your success, and not expect to let them in and let them participate in some way in what you do. If we want to be a small parochial club, and close our doors to anyone outside the city, we won't get very far in this global football market. So whether it's what people like is irrelevant - it's absolutely what people have to accept and expect.
Follow the author on Twitter @James_MT