Has Ian Livingston stopped the rot at BT?
BT's overhaul after the Global Services fiasco seems to be paying off - but more cuts are still required...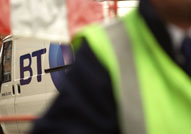 Here's a very modern stock-market story: this morning BT reported that its profits tumbled 45% and its pension deficit more than doubled (to about 80% of its market value) in the first six months of 2009 – and its share price promptly jumped 5%. Because as far as investors were concerned, the salient point was that the numbers were better than their (very low) expectations. BT also cheered shareholders by revising its forecasts upwards and reporting that its cost-cutting plan is so far ahead of schedule that CEO Ian Livingston is planning to extend it. Although the staff who'll presumably lose their jobs as a result are unlikely to be so cheerful…

The bad news was that profits fell 45% to £547m, on slightly lower sales of £5.1bn. However, this was largely due to the costs of cutting 30,000 jobs in the last two years – stripping this out, profits were down just 6%. And these cuts have enabled Livingston to make £900m of his proposed £1bn savings already, enabling him to extend his target to £1.5bn (hence the extra jobs on the line). About a quarter of these cuts were in BT's ailing Global Services division, which finally seems to be sorting itself out; Livingston reckons it will deliver better results from now on. As a result, he's now forecasting an overall decline in sales this year of 3-4%, rather than 4-5%. He also thinks BT will end up with more cash than expected (allowing him to increase the dividend, would you believe).

But there's a very large elephant in the room, in the shape of BT's giant pension fund. In the six months from March to September, its deficit ballooned from £4bn to £9.4bn – meaning that it's now almost as big as the company's entire market value (currently just under £11.5bn). Although the fund's assets actually increased slightly during the period, liabilities soared to almost £42bn, apparently thanks to lower bond yields and inflation expectations. BT is going to have to spend over £500m this year servicing this deficit (and that's on top of servicing the rest of its £10bn debt). Ouch.

However, the stock market doesn't seem too worried about this thorny little problem. In fact, judging by this morning's share price bump, investors seem far more interested in the revised revenue and cash forecasts (cash that BT is going to need if its pension fund keeps soaring at this rate). We suppose these things are all relative, and BT undoubtedly looks a lot healthier than it did a year ago. There's a long way to go, but Livingston can at least reasonably claim that he's starting to turn things around.

In today's bulletin:
Asda kicks off Christmas retail price war after latest sales hike
Has Ian Livingston stopped the rot at BT?
Are UK firms being ripped off by insolvency practitioners?
Editor's blog: Do nurses need to be graduates?
Directors pass the buck to senior managers