IBM appoints first female CEO
Virginia Rometty is to take over from Sam Palmisano as CEO of IBM. She's the first female CEO in the technology giant's 100-year history.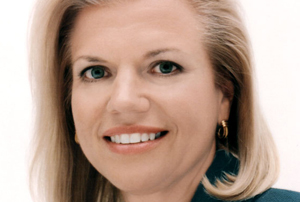 Rometty – or 'Ginni' as she is known – was head of IBM's sales and marketing operations. She now joins a very small pool of women chief executives in corporate America: Ursula Burns at Xerox, Indra Nooyi at PepsiCo, Ellen Kullman of DuPont and, most recently, Meg Whitman, who took the reins at Hewlett-Packard last month.

Rumours were flying about the possible successor to the role as Palmisano approached 60, the customary retirement age at IBM. He's been CEO for nearly a decade and will stay on as chairman.
Rometty's appointment comes at a very opportune time. Gender has been on the agenda ('scuse the pun) for some time. There's even been talk of boardroom quotas to encourage big firms to appoint more women to high-level positions. However, according to Palmisano, her sex did not figure into the selection process.
'Ginni got it because she deserved it,' Palmisano told the New York Times. 'It's got zero to do with progressive social policies.'