IBM ousts Capita for congestion charge deal
It might be about to make enemies of a few million London drivers, but IBM had cause for celebration on Wednesday, after winning the contract to operate the city's congestion charge from 2009.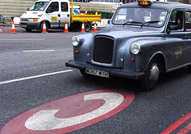 Transport for London said it had awarded the five-year contract to IBM after a 12-month tender process, ahead of present incumbent Capita and Thales Alliance. Apparently IBM's bid was 'the most economically advantageous', which presumably means it charged less and was prepared to give a bigger chunk of profits to TfL (who will then re-invest them in London transport, of course).
It's not such good news for outsourcing giant Capita, of course, which has been running the scheme since 2003 and had been widely expected to retain the contract. The estimated £60m hit to revenues is relatively small peanuts for a company with a market value of more than £4bn, but losing out on such a high-profile deal is never good for the reputation – particularly when most people have no idea what it is actually does. Its share price immediately fell almost 10%, wiping more than £400m off its value (although it did rebound later in the day).
When the contract starts in September 2009, IBM's main role will be to supply the fancy technology to make the scheme work, while the dirty job of actually enforcing it will be delegated to its partner NCP (the car park operator).