Iceland coughs up our savings
Iceland has finally agreed to refund the billions in British savings lost in the collapse of Landsbanki.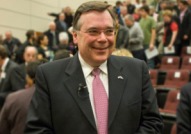 Iceland says it has struck a preliminary deal to repay the deposits that were frozen when Landsbanki fell victim to the chaos in the financial markets. About 300,000 British savers – not to mention dozens of local authorities, public bodies and charities – lost their deposits in the Icesave meltdown, leading to a full-blown diplomatic spat between the UK and Iceland as Alistair Darling and co clamoured for our money back. With the Icelandic economy on its knees, there didn't seem much chance of a happy ending – but some serious diplomatic pressure seems to have done the trick...
This clearly wasn't an entirely benevolent gesture on Iceland's part. The move appears to have been a condition of a $2bn IMF loan that Iceland desperately needs to prop up its ailing economy – no doubt thanks to Britain and the Netherlands throwing their weight around behind-the-scenes. 'It has become increasingly clear that we were not just up against two countries but all twenty-seven in the European Union,' said Iceland PM Geir Haarde yesterday, in the slightly ungracious manner of a man who's had his arm twisted further and further behind his back.
However, the good news for British savers is that Iceland has now agreed to honour its commitments and 'cover deposits of insured depositors in the Icesave accounts in accordance with European Economic Area law' - something it had previously insisted that it wouldn't do (hence the furious response from the British government, which promptly started seizing Icelandic assets in the UK). So it looks likely that most of the UK savers affected – including the MT reader who had £17,000 trapped in there – now have a pretty good chance of seeing their money again before too long.