Iceland's frosty relations as Kaupthing falls
As Iceland's financial implosion continues, it's losing friends and alienating people in the UK...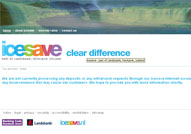 Iceland's woes continue apace: this morning Kaupthing, the country's only remaining big bank, has been taken into state control, admitting that it can't survive as an independent entity (and blaming the UK!). It follows the earlier nationalisation of Glitnir and Landsbanki, owner of Icesave, and is likely to escalate the government's diplomatic woes. On Wednesday the Chancellor informed us that Iceland has refused to pay out compensation to Icesave savers, despite having previously promised to do so – so we're now going to sue them for the money. Meanwhile our beleaguered MT reader – who as we reported on Tuesday has desperately been trying to get his money out – informs us that the £10,000 he'd transferred out on Monday has mysteriously reappeared in his Icesave account two days later…
There's no doubt that this Icesave business will lead to a serious falling-out between the UK and Iceland governments. 'The Icelandic government, believe it or not, have told me yesterday they have no intention of honouring their obligations', a shocked Chancellor told reporters on Wednesday (today Kaupthing blamed this statement for its subsequent demise, which seems a bit disingenuous). The prime minister was equally sniffy, promising that the government would sue Iceland to get British savings back. (He's also put into administration Kaupthing's UK arm Kaputhing Singer & Friedlander, and transferred its £2.5bn retail deposits to ING Direct.) With retail savers up in arms, it's also emerged that up to 20 UK local authorities had their funds in Iceland too – that's up to £1bn of public money, and it isn't even covered by any guarantee. And that's just the UK - the impact of Kaupthing's collapse (given it has assets of over $70bn) is likely to be felt around the world.
This posturing is all very well, of course – but the problem is that Iceland's economy is clearly on its last legs. It admitted failure on Wednesday in its attempts to rescue Glitnir via nationalisation, and to prop up the krona by pegging it to the euro – and now Kaupthing has called it a day. So its currency is failing, its three biggest banks are in the hands of regulators, and the financial sector has combined debts of more than 12 times the entire Icelandic economy. Even if we sue them, how are they going to pay us? In cod?