Iceland's Prime Minister has stood aside - sort of
Sigmundur David Gunnlaugsson has been caught up in the Panama Papers scandal. But he's not going anywhere just yet.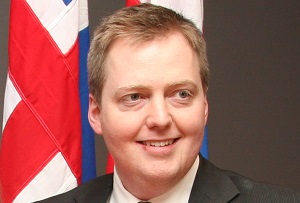 Iceland's prime minister stood down yesterday after being linked to the financial scandals published in the so-called 'Panama Papers'. Except that he didn't. Instead Signmundur David Gunnlaugsson took a leaf out of the Nigel Farage book of non-resignation resignations.
After news of his departure began to emerge, the prime minister's office put out a statement clarifying that he would simply be handing over the hot seat to the country's agriculture and fisheries minister (the obvious go-to guy in a time of crisis), 'for an unspecificed amount of time. The Prime Minister has not resigned and will continue to serve as Chairman of the Progressive Party.'
The scandal is an unfortunate blow for a nation that is trying to move on from its spectacular meltdown in the early days of the financial crisis – proportionally the largest collapse of any country's banking sector, ever.