'If I felt what we were doing was bad, I wouldn't feel comfortable making it up with CSR' - Richard Flint, Sky Bet
QUICK FIRE CEO Q&A: The online gambling boss on betting's image problem and the allure of being a fighter pilot.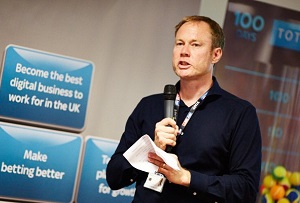 Richard Flint has run Sky Betting and Gaming for fifteen years. After studying at Oxford and then Harvard, he initially looked to a career in politics, but caught the tech bug while working for McKinsey during the dotcom boom. Flint joined Sky shortly before it launched its Leeds-based betting division, and has remained in charge of it after the firm sold an 80% stake to CVC Capital Partners in 2015.
What was your hardest job?
When I was 18, I spent two weeks looking after severely disabled people at a place called the Winged Fellowship (now Revitalise), which provides holiday care. It was very rewarding and I have enormous respect for those who do it as a career, but I knew I didn't have the emotional strength.
If you'd not gone into business, what would you have done?
When I'm out on my bike around the Yorkshire Dales, there's a lot of fighter planes flying over. Quite often I think that could have been me. I did the exams to be a fighter pilot in secondary school, but failed the medical on the grounds of asthma.