Ikea could be heading to Oxford Street
The Swedish furniture maker is trialing new, smaller stores.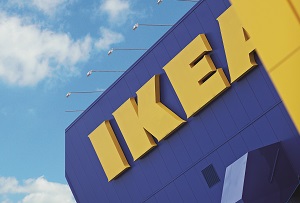 Visiting Ikea is usually more like an intrepid expedition than a quick trip to the shops. The Swedish furniture maker's giant purpose-built, out-of-town stores are built like labyrinths and the sofas, cupboards and bookcases with unfamiliar names like POÄNG, EKTORP and STOCKSUND only add to the sense of adventure. Better bring some provisions unless you have a taste for meatballs.
But with an eye on those customers who don't want to turn every furniture purchase into a day out, the company is planning to open a tranche of new, smaller stores in city centres. It first announced the plan in June and opened the first new format 'order and collection point' in Norwich earlier this month. Another is planned for Aberdeen in the New Year, and now it looks like Ikea could be heading to Britain's most famous shopping street.
'We are also exploring a number of other potential locations across the UK, one of which is the BHS building on Oxford Street,' a spokesperson told the Times. 'While we are seriously considering this opportunity, we have nothing to confirm...while discussions are ongoing.'