IKEA's bid to make sustainability sexy
IKEA became the first big UK retailer to sell solar panels this week, but its vision doesn't stop there. MT caught up the Swedish flatpack legend to find out more...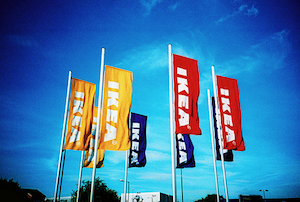 'There's still a perception out there that sustainability is about living in a cave with the lights off and giving things up,' says Joanna Yarrow, the head of sustainability at IKEA and self confessed campaigner.

'But we're finding if you provide people with the opportunity to experience a sustainable way of life, have a good look at it, try it on and sit on it - it loses its mystique and makes a lot of sense.'

Trying it on and sitting on it has been IKEA mantra since day one. Its vast, labyrinth-like showrooms have been allowing UK customers to get a taste life in an IKEA home for over 25 years – turning a shopping trip into an experiential jaunt (or a hellish errand - depending on your tolerance for busy shops). Now, the retailer is giving green-living the tangible IKEA treatment.

The Swedish retail giant rolled out the sale of solar panels in the UK this week. Following a trial in its east London store, the German-made panels went on sale in Southampton on Monday and will be rolling out to the rest of the UK over the next ten months.

'It's a global first for us, the first time we've moved into providing a product for home energy generation and the first UK retail to offer a whole solution,' explains Yarrow.

'We've even tackled the problem of selling solar panels in a country where the sun doesn't shine so much.'

She referring to the technology which has gone into IKEA's solar panels. Made in Germany, they have a thin film of CIGS (that's copper indium gallium selenide don't you know) which allows the panels to generate energy even when it's overcast. Which it often is.
IKEA's head of sustainability Joanna Yarrow