I'll drink to that - Majestic toasts new strategy
Less is clearly more for Majestic Wine, which has boosted sales by selling its wine in smaller cases.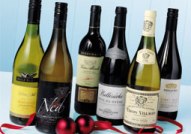 Wine merchant Majestic said today that profits jumped 9% in the first half of its financial year, partly because it has cut its minimum order from twelve bottles to six. In the past, buying a full case might have seemed a bit off-puttingly excessive to the average punter (though not to enthusiasts like ourselves, of course). But the new policy has clearly paid off: Majestic said that although the average spend per transaction had gone down, the extra customers generated has more than made up the difference. And since dining in is the new eating out these days, Majestic looks well-placed to cash in over the coming months...

It's certainly had a good run lately. All these new customers helped push overall sales up 13% in the six months to September - and although some of that came from new store space (and the acquisition of fine wine merchant Lay & Wheeler), underlying sales were up 5.4% in the UK - with the second quarter even better than the first. And we're not just talking about cheap recessionary-pain-dulling plonk here either: there was a rise of almost 15% in sales of bottles costing more than £20 (well, we have to cheer ourselves up somehow). In fact, the only disappointment was its French division: these days the feeble pound makes the great British booze cruise seem a bit pointless.

A wine merchant might not seem the most obvious downturn snapshot, but Majestic's results included some interesting titbits - like the gap between consumer sales (up 9%) and its corporate sales (down 7%). Clearly businesses are cutting back on the entertaining and events budgets - whereas consumers are buying wine in bulk to drink at home, as an alternative to going out. Bad news for pubs and restaurants; good news for the off-trade.

With the lucrative Christmas period looming, Majestic boss Steve Lewis will be feeling rather pleased with life this morning - particularly when he remembers that he's just made the short-list for MT's 'Britain's Most Admired Companies' awards for the very first time. Now he just has to hope that whoever wins next year's election doesn't decide to hike booze taxes...

Another big beneficiary of this stay-at-home trend has been Domino's Pizza, of course, which is having such a storming recession that it's decided to give shareholders a slice of the action - this morning it said it would return £19m via a share buy-back. In an age when companies are desperately trying to hang on to every penny of cash they can get their hands on, that's just showing off.

In today's bulletin:
Sainsbury's feels the squeeze from all sides?
I'll drink to that - Majestic toasts new strategy
Life not getting any easier for UK SMEs
The Parent Project: Do working mums get too easy a ride?
MT Expert's Ten Top Tips: Keep your IT systems secure