Imperial sales go up in smoke
If you think business has been tough for you in the last few months, spare a thought for those in the cigarette business. The combined effect of the English smoking ban plus the miserable summer weather put a big dent in Imperial Tobacco's UK sales, the cigarette maker admitted today.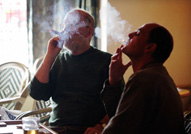 Last financial year was a game of two halves for Imperial, which enjoyed a strong start to the period but saw sales slump after the smoking ban was introduced on July 1 – particularly since smokers were unwilling to loiter outside pubs in the rain. This led to a 2% fall in volumes for the year as a whole.
And the outlook is no better – Imperial thinks the initial impact of the ban will even out, but it's still expecting the UK market to shrink by about 3 or 4% per year from now on.
Of course, most people are unlikely to shed any tears for big cigarette companies, which tend to be on a par with arms dealers and human traffickers in the popularity stakes.