Imperial's Alison Cooper joins ranks of female FTSE bosses
Imperial Tobacco has become one of the few FTSE 100 companies to appoint a woman to its top job...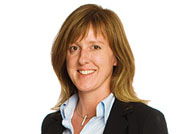 Imperial Tobacco very rarely finds itself in the headlines for positive reasons, but at least it's a progressive employer – the cigarette-flogger has just appointed former COO Alison Cooper as its new chief executive. Former boss Gareth Davies is stepping down after a 14-year stint, and he seems to have gone out with a bang, posting a smoking set of results: full-year profits were up nearly 40% to £2.2bn, well ahead of City forecasts. So Cooper has some big shoes to fill – although she may have an even tougher time persuading the world that Imperial isn't really a force for evil…

Cooper is a qualified accountant who joined Imperial in 1999 and was promoted to the COO role earlier this year – so she follows the recent trend of companies turning to senior finance people as they look for a steady hand on the tiller in these turbulent climes. But by virtue of her gender, she's in a minority – the likes of Dame Marjorie Scardino at Pearson and Angela Ahrendts at Burberry are among the very few women to be running big companies in the UK (and unlike these two, Cooper's actually a Brit).

Meanwhile Davies has (appropriately) gone out on a high: full-year sales were up nearly 30% to £26.5bn, as Imperial started to ingest last year's acquisition of Franco-Spanish firm Altadis. It's also been able to pay off some of the huge debt pile it incurred in the process, which seems to have cheered the City. So it's a good time for Davies to bow out: he's managed to get the share price up from £4 to £27 in the last decade, so shareholders have plenty of reasons to be grateful.

Cooper's appointment seems to have gone down well, judging by the bounce in the share price this morning – perhaps because she seems to be promising more of the same (albeit perhaps with more of a focus on sales growth rather than cost-cutting). But one way in which she could easily distance herself from her predecessor is by admitting that her products actually kill people. According to Bloomberg, Davis is one of the few people in the industry – not to mention the planet – who's still in denial about the link between smoking and lung cancer, having told a court in 2005 that a causal link hadn't yet been definitively established. A reminder of what a difficult political task Cooper now faces...

In today's bulletin:
Barclays and HSBC cash in thanks to international muscle
Imperial's Alison Cooper joins ranks of female FTSE bosses
Editor's blog: Keep Cadbury British
Shoplifting soars as we feel the downturn pinch
Charities: cancer good, religion bad