Indian firm suffers from employee's watercooler moment
When your staff start trying to poison each other, you know you've got a serious morale problem.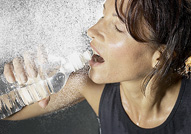 From time to time, we probably all feel a little ambivalent towards our co-workers. Generally speaking, we get over it by taking a long lunch and a bit of fresh air, or plugging into our iPod for an hour or two. But one disgruntled worker at a nuclear power plant in India took a rather more forceful approach – he or she decided to poison the office drinking water with a radioactive isotope. Now there's a watercooler moment that will live long in the memory…

Fifty-five employees at the high-security Kaiga nuclear power plant (on the west coast of India) had to be given emergency medical treatment after they drank the contaminated water, which had apparently been deliberately laced with tritium – a substance used to make luminous watch hands (it glows in the dark) and to trigger nuclear bombs. Not the kind of thing you generally find in your local Quick-E-Mart. And although the Indian security services have been called in – the watercooler was in a high-security area, close to a reactor that was supposed to be monitored around the clock – apparently an inside job is thought to be the most likely explanation.

The Nuclear Power Corporation of India, the state-owned body that controls the plant, still doesn't know who did the deed – although apparently they've narrowed down the list of suspects to about 15 people, all of whom are thought to work at the site ('We are more or less zeroed-in on the act of mischief,' was their rather brilliant quote). So we don't know yet what prompted it. But since there are serious health risks linked to contamination – including an increased occurrence of cancer and genetic abnormalities in future offspring – we can't help feeling this would be a somewhat disproportionate act of vengeance for a pinched stapler or nabbed parking space.

One thing's for sure: workers at the plant will be a lot more wary from now on of colleagues with an axe to grind. And there's a lesson for us all there: perhaps best to ask first next time you want to borrow your colleague's favourite coffee cup. Particularly if you work in the vicinity of radioactive isotopes.

In today's bulletin:
BSkyB is Britain's Most Admired Company 2009
Yorkshire Building Society swallows Chelsea to challenge Nationwide
Google makes peace offering to publishers over online news
Editor's blog: BSkyB goes from zero to hero
Indian firm suffers from employee's watercooler moment