India's proportion of female chief executives beats western economies hands-down
India has nearly twice the percentage of women running big companies as the UK. How embarrassing.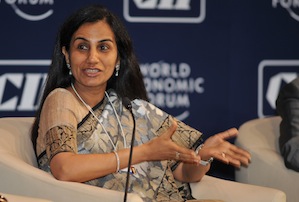 The UK is used to doing badly in international league tables (and a certain football competition...), but this takes the biscuit. Only 5% of FTSE 100 and 250 CEOs are women, compared with 8% of top Indian chief execs.

India topped a chart compiled by business intelligence app Qlik, easily beating supposedly more developed economies like Germany, Japan and Australia. The Asian nation, not exactly known as a pioneer in women's rights, had four female chief execs in its top 50, while the UK only had 15 out of 325.

The research showed women bosses were more educated than their male counterparts in all countries - 31% had MBAs compared to 17% of men. In the UK, while female chief execs were actually slightly less likely to have an MBA, they were more than twice as likely to have been educated at Oxbridge or Harvard (40% compared to 19% of men).

It's possible the trick to India's 'success' is down to business type. All of the country's top women bosses run finance companies, while none of their British equivalents even come from a finance background. A further sign of an old boys' network in finance?

Despite this recent defeat to India, it's not all bad news for women in British business. When it comes to female chief execs, the UK still came ahead of Japan, Hong Kong, China, Germany and Switzerland, tying with Australia. So that's alright then.