Infighting, tax evasion and dodgy deals: The dark reality of Dragons' Den
Many entrepreneurs have been left battered after appearing on the hit BBC series. Are the show's days numbered?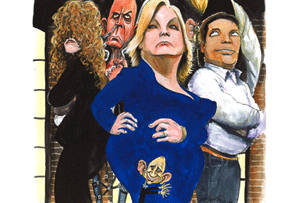 A star of the show once tried to buy a baby. Another branded his wife a gold-digger in front of millions. A further character stood accused of using public money to fill his company coffers. These tales of infighting, tax evasion and dodgy deals are not based on the antics of JR of Dallas fame. This is real life, playing out on the hit BBC series Dragons' Den.
Part investors, part pantomime villains, the BBC's 'Dragons' are as colourful as they are incredible. You don't have to dig very deep to find dirt. Take gym entrepreneur and fiery Scot Duncan Bannatyne, whose financial woes have been played out endlessly in the media. The small issue of a £122m debt to the collapsed Anglo Irish Bank last year got him booted out of the Sunday Times Rich List, yet he has managed to hang grimly onto his spot on the show.
Bannatyne's high-profile divorce turned into a soap opera amid the Dragon's claims on Twitter that his ex only married him for his money. And his own brother Sandy became a member of the 'I hate Duncan Bannatyne society' on Facebook, after the Dragon insulted his Scottish family in his autobiography.