Inflation drops to 2.2% in September
Rough estimates put September's CPI figure at 2.2%, the lowest level in three years. But is this the calm before the inflationary storm?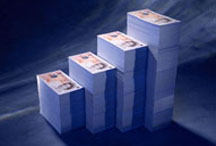 Inflation has fallen again, experts say. Last month, it hit a low of between 2% and 2.2% - although some analysts believe it could have even dropped below the government's target 2% rate. That's quite the fall from the 2.5% consumer price inflation recorded in August. Bad news for those on benefits or collecting state pensions (payment increases are calculated using CPI), but good news for household budgets – at least ostensibly.

However, the deflationary pattern could be deceptive. It's falling as last year's energy price hikes are slowly stripped out of the year-on-year comparisons – CPI peaked at 5.2% this time in 2011. But that could all be about to change. This week alone, British Gas and Npower have increased energy prices, following the tariff hikes over at SSE last month. So September could be the inflationary trough before the rate begins to climb again this winter.

Food prices are also an uncertainty. The UK is yet to see the inflationary effects of higher agricultural commodity prices but these are slowly creeping up the supply chain. Poor harvests both at home and abroad are also likely to have a big impact on the headline rate of CPI. But the true extent of the problem will only become apparent in the coming months.
There's also a fair bit of moving and shaking taking place in the manufacturing sector. While producers' prices have fallen 1.2% on a year ago, the ONS reckons that wholesale prices are starting to rise, which could also feed in to a higher CPI. Selling prices have just risen for the second month running, up from 2.3% in August to 2.5% in September.
If inflation begins to rise again, the Bank of England will be forced to take action. The E&Y ITEM Club yesterday predicted a return to GDP growth in the second half of this year but consumer demand is still very weak and the higher fuel and food prices could present an argument for further policy stimulus. We may see another course of quantitative easing to treat our economy's ills before the end of the year, a course of action that has already been endorsed by the IMF. Of course, the Monetary Policy Committee will have to see clear evidence of a deterioration before it starts the treatment. It will be watching every economic cough and sniffle very closely…