Inflation drops to its lowest in four years
The CPI has fallen to 2.1%, 0.1% off the target level - but it's only temporary, reckons the ONS. Still, it's a start.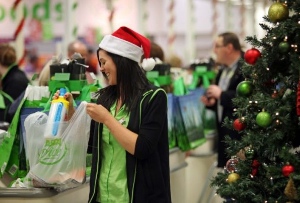 More encouraging signs that the UK is firmly in 'recovery' mode: inflation (or the Consumer Prices Index, the government's preferred measure of inflation) has dropped to 2.1%, from 2.2% the month before. (The Retail Prices Index has stuck at 2.6%, but we'll gloss over that...).

It's cause for celebration: after all, 2% is the UK's target for inflation and 2.1% is the closest it's been to that figure for four years. Ordinarily, this would be the point at which the Bank of England's Monetary Policy Committee, which is in charge of setting interest rates, would get all hot under the collar about raising the UK's 0.5% bank rate. But that was before BoE governor Mark Carney introduced his forward guidance, which says interest rates won't go up until unemployment drops to 7%. It's currently 7.6% - so businesses can breathe a sigh of relief.

Obviously, inflation dropping to that level is a good thing - but the Office for National Statistics suggested the fall was partly because recently-announced rises in energy prices have yet to kick in. So chances are that once they are introduced in January, inflation begin to will wend its merry way upwards again. Considering wages are the one area where the recovery has yet to take an effect (unless you're a City boss), that's bad news for consumers.

Still: according to the ONS, transport prices fell by 0.5% (admittedly half the 1% drop seen last year), while the price of food and non-alcoholic beverages stayed pretty much unchanged between October and November, compared with a 1.1% rise a year ago. So the pressure on consumers is beginning to ease off. Now we could all just do with a bit more cash, and it'll be a very merry Christmas indeed.