Has inflation finally peaked?
UK inflation has topped the 5% mark - but at the moment, this may be the least of our worries...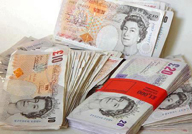 Consumer price inflation hit 5.2% in September, a 16-year high, thanks largely to higher energy bills and food prices. Since the Bank of England's main job (theoretically) is to keep inflation within spitting distance of 2%, this would normally count as a fairly disastrous state of affairs. But this is a topsy-turvy time we're living in: with plunging commodity prices and falling demand expected to push inflation down rapidly in the coming months, the pressure will still be on the Bank for another rate cut next month…
Today's latest jump in inflation is hardly a surprise. The figure has been climbing for months, as the higher price of commodities like fuel and food has trickled down to customers. According to the Office of National Statistics, the annual rate of inflation for energy and other household bills hit 15% last month, its highest for almost a decade – the main problem being gas, which is now 50% more expensive than last year, and electricity, up 30%. The Retail Price Index (which is used for pay negotiations, and to work out state benefit payments) also jumped to 5%, up from 4.8% in August.
The Bank of England is unlikely to be surprised either: announcing its emergency 0.5% rate cut last week, it predicted that inflation would top 5% - but then start falling as fears of a major economic slowdown pushed down commodity prices. It's wary of sending a message that higher inflation is ok – but it's more worried that inflation could fall precipitously (possibly right down to 1%) unless the economy perks up. So although cutting borrowing costs (thus encouraging people to spend) might seem a funny thing to do at a time when prices are still rising, it's seen as the lesser of two evils.