Inflation heats up to 2.9% as consumers struggle
The Bank of England's new governor has avoided writing a letter of explanation over high inflation figures to the Chancellor - but that doesn't mean it's ok.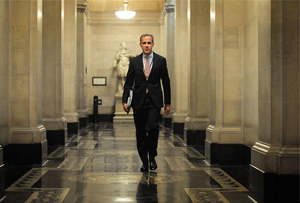 Bank of England governor Mark Carney has narrowly missed writing his first 'I've been a bad boy' letter to the chancellor, after consumer price inflation rose in June to 2.9%, up from 2.7% in May.

The figure is a 14-month high, but lower than the 3% expected by markets. 3% is also the level at which the governor is expected to write a letter of explanation to the chancellor. Given Carney's been in the job for all of two minutes, that's probably for the best…

The Retail Prices Index (used by the previous government as its headline figure) also rose, from 3.1% in May to 3.3% in June.

The ONS said inflation would have been higher, had it not been for airfares falling by 2.8% during June, compared with a 7.4% increase this time last year. But let's face it – when the UK is this warm, who needs to go on holiday?

Gratifyingly for consumers, clothing and footwear prices also fell, by 1.9% (largely because 75% of the high street is currently on sale) – although that was a lot less than the 4.2% drop in June last year.

Now admittedly, 2.9% is much lower than the 4%-5% average inflation experienced during most of 2011. But given figures by the Office for National Statistics showed in June the average payrise is just 1%, that means prices are rising faster than wages. In real-terms, things are getting more expensive. Here's a graph from analysts Markit to show just how bad things are:
As the British Chambers of Commerce pointed out, that isn't just bad for consumers – it's bad for businesses too.

'If unexpected developments, such as renewed surges in energy prices, push inflation up further, our growth prospects will face new risks,' said David Kern, the body's chief economist.

'Given the uncertainties, the [Bank of England inflation-setting body] Monetary Policy Committee should remain cautious and reject any measures that could delay the fall in inflation that the economy needs.'