Inflation slides again as fuel prices plunge
Inflation fell to 4.1% in November - and everyone seems strangely relieved that it's still so high...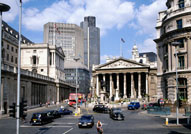 The Consumer Prices Index dropped to 4.1% last month, down from 4.5% in October – a sizeable drop, but not quite the 0.6% fall (to 3.9%) that economists were predicting. We've spent most of the last year fretting about inflation being too high, but as the price of fuel plummets and consumer spending falls off a cliff, deflation has suddenly become the big concern. It's a sign of the times that it now counts as good news when inflation comes in a full 2.1% above the Government's target…
Nonetheless, we shouldn't forget how rapid the turnaround has been. In the summer, when oil was selling at a record $150/ barrel and prices were soaring, inflation was running at more than 5% – making it difficult for the Bank of England to cut interest rates in order to ward off the imminent downturn. Fast forward a few months, and the picture is completely different: with demand tumbling all round the world, oil is now worth less than $50/ barrel, and that's dragging down the CPI so quickly that the Bank can't cut rates fast enough. It now thinks the risks are 'weighted to the downside' – in other words, it's principally worried about deflation.
Most analysts were actually expecting an even sharper fall in CPI last month, given the constant stream of bad news we seem to be getting about the economy at the moment. But it seems that the negative effect of the fuel price cuts have been offset to some extent by a rise in the price of fruit and vegetables, making the drop slightly smaller than expected. However, the Retail Prices Index may be a more accurate reflection of what's really going on: on this measure (which factors in housing costs), inflation plunged to 3% in November, down from 4.2% in October.