Inflation slips back toward 2% target
UK inflation cooled slightly in July - but we're not out of the hot water yet.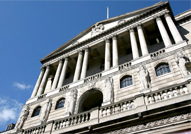 It's that time of the month again: inflation figures are out, and economists the land over are scrambling over each other to stick their oar in. It's reasonably good news, though – inflation has dropped slightly, from 3.2% in June to 3.1% last month. Bank of England chief Mervyn King was still obliged to send his letter to George Osborne, but he could, at the very least, write it with a bit of a flourish, because the figures seem to have gone some way to proving his assertion that high inflation will pass of its own accord. Others, though, are more worried that the rising cost of living will jeopardise recovery.

The figures do look more encouraging than last month: while the consumer price index dropped to 3.1%, the retail price index – the measure more closely associated with the overall cost of living – also dropped, albeit from a more imposing 5% to 4.8%. Nevertheless, it's an indication that things are moving in the right direction, even though inflation is still considerably higher than the 2% target set by the Government.

That said, the figures are likely to provide some ammunition to Mervyn King's argument that a higher level of inflation will pass. Core inflation, the figure achieved once you strip out volatile elements like the price of energy or food, certainly seems to make that point – it's down to 2.6% from 3.1% the month before, lower than it's been since November 2009.

The fact that the Monetary Policy Committee, the Bank of England committee in charge of determining interest rates, has so far refused to raise interest rates (which could help to lower inflation), does indicate that they subscribe to King's view. Of course, that has a lot to do with keeping a lid on the price of credit, which would rise if interest rates go up. But economists are now worried that with inflation outstripping the average rise in wages by a fairly hefty amount, Britain's fragile recovery is being undermined.

Raising interest rates is a question of timing: but it seems MPC members are beginning to think the time may nearly be upon us. In June, MPC member Andrew Sentance voted in favour of raising rates. The minutes for last month's meeting are due out tomorrow, so we'll have to wait until then to see if anyone else voted with him – but given volatile food prices in the wake of the Russian wheat crisis, now might be the time to act.

Meanwhile, things are going better in the euro zone. Inflation has now hit 1.7% - its highest in almost two years, while in the wider, 27-nation EU (which includes the UK), it has risen to 2.1% - within sniffing distance of the European Central Bank's 2% target. That said, it does mask some worrying figures: Greek inflation is still hovering around the 5% mark, while Ireland has seen deflation.

So it's good news for now, but with food and energy prices set to rise – not to mention a VAT rise due next year – interest rates will have to rise. The only question is when, and by how much.
In today's bulletin:
Inflation slips back toward 2% target
Unite calls off BAA strikes
General Motors to float, one year after bankruptcy
Small firms need cash incentives to go green, says FSB
Time to turf out boring meetings?